When former Advance Asset Management Head of Investment Strategy and Research Felix Stephen and his wife Yasmin committed to starting a charity for disabled children in the Uva Province of Sri Lanka in December 2011, they faced several daunting obstacles.
Not only was there little government help or other support mechanisms to assist these children and their families, but many parents were reluctant to even admit they had a disabled child.
The social stigma around disability meant admitting to having a disabled child that could see these parents being ostracised by their communities and set them up for even more hardship then they were already facing.
To make any change, they needed to get the parents involved.
"We had to break through prevailing stigma, discrimination, social isolation, myth and vilification and educate people that these children were equally important in society," Felix Stephen, Chair of Volunteers for Assisting Children with Disabilities (VACD) says in an interview with [i3] Insights.
"To begin with we needed to give the children some basic life skills and special education and ensure they received regular medical attention, and so we set up a centre in Bandarawela, and clinics in the local hospitals," he said.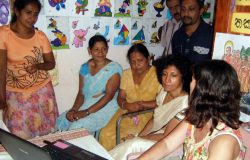 Parent education focused on communication.
Uva Province is one of the poorest in Sri Lanka and many low income households that are dependent on subsistence farming. Often, the mothers are abandoned by their husbands when disabled children are born and the children grow up in single parent families.
To support the parents, VACD also needed to offer training to help them and their children develop skills that would enable the generation of an income through other activities, such as handicrafts.
"And so the Bandarawela centre became the hub for all these activities," he said.
Making Progress
The activities started to gain momentum and VACD has seen clear progress over the last few years.
Parents who were at first reluctant to even mention their child was disabled are now feeling empowered by being part of the project.
Some of them have been organised into four parent groups, each one focusing on Health & Nutrition, Education & Training, Sport & Culture and Finance & Family Budgeting, gaining valuable organisational skills along the way, while easing the administrative burden on the VACD leadership team.
"We have seen visible and encouraging change," Yasmin, who is VACD's Administration & Communications Secretary, says.
"When we first met these parents they never made eye contact, they were depressed, but now they get together, they laugh and are happy because they feel confident that they and the children have a future, while they support each other.
"They are a diverse group with different religions and races and they get along and they know they are not alone.
"These parents address meetings and public gatherings and inspire each other. They go to other towns where the parents have requested VACD centres and say: 'Look, we know where you are coming from'. That is crucial.
"They used to say: 'Before, I was so sad, because my child had no hope or future.' Now, they feel their children have a brighter future because of VACD," she says.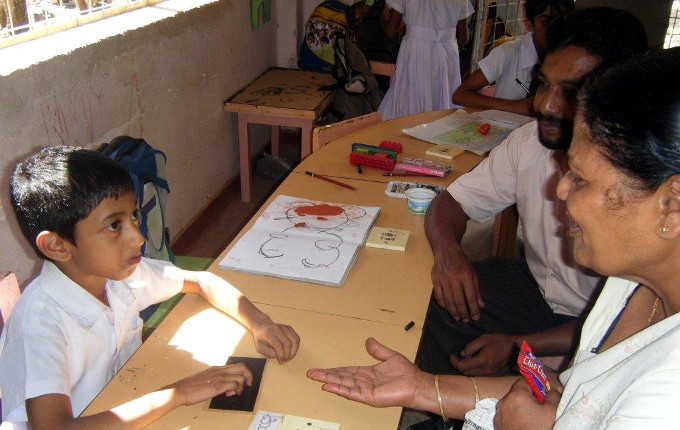 Teaching children a picture-based communication system.
The Beginnings
Felix retired in May 2015, but his 45-year career in international financial services saw him travel widely and frequently.
He always made a point of stopping over in Sri Lanka and visit his parents grave in the city of Badulla and on one of such occasions, he visited his old college, St Joseph's College in Bandarawela.
During his tour of the school, he saw a classroom where his brothers used to be taught and mentioned this to the principal.
"The principal said: 'Let's go back and have a look at that same class room.' I found there were about 11 disabled children in that class room," he says.
"How the system worked was that the disabled children at these government schools had teachers who weren't trained to teach children with special needs, and the children had no structured programs during the day."
"The principal said to me: 'Is there any chance of helping these children?'
"On the way back from Bandarawela to Colombo, I was in the car texting people to see if we could generate some sort of interest and then I came across an old friend of mine, Milton Perera, who was a veteran of 30+ years working with leading global charities.
It was Perera, who suggested the model of getting the parents involved in the daily running of the organisation to ensure its longevity, while at the same time providing a support network that would help parents overcome social stigma.
"We managed to launch the charity with our own money on 27 December of 2011, which is also happened to be our wedding anniversary, with 56 children.
"The charity started gradually growing and we have close to 350 children now," he says.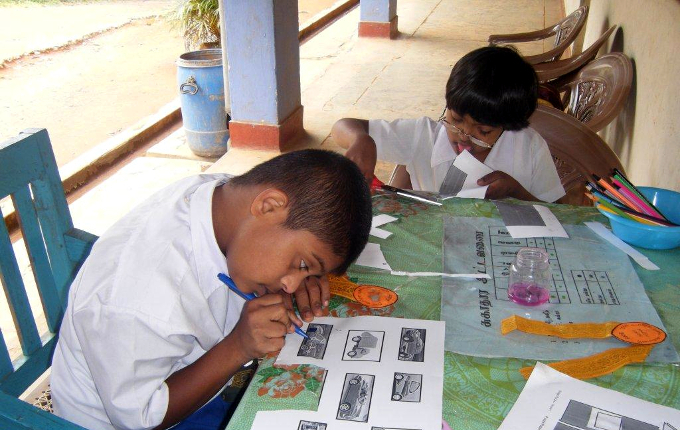 Training fine motor skills.
VACD has achieved a number of triumphs since its inception, including the training of children, siblings and parents in new and useful skills. The children get special education in life skills, music and dance training.
We also have an Education Assistance Program that costs AUD 20 per month that funds needy children with academic ability or a sibling to achieve a better standard of education.
VACD has generated interest from the Uva provincial government in its programs and is now working together with the Department of Education to launch a drawing and painting competition across the province to generate awareness of the rights of disabled children.
It has also partnered with the Rural Development Bank for micro-finance projects, supporting parents to establish small businesses, including beekeeping and tea smallholdings.
VACD hopes to export the model to other provinces and expand the existing operations in Uva.
"We hope to open three more centres over time, but we need to do fundraising for that.  So far, around 87 cents of every dollar received by us goes directly to the children because our administrative costs are deliberately kept low," they said.
To support the Volunteers for Assisting Children with Disabilities please donate here, or visit the website, http://www.vacd.org.au
__________
[i3] Insights is the official educational bulletin of the Investment Innovation Institute [i3]. It covers major trends and innovations in institutional investing, providing independent and thought-provoking content about pension funds, insurance companies and sovereign wealth funds across the globe.