Long-term Climate Risks and Opportunities
As more investors seek greater clarity and confidence in accounting for long-term climate risks and opportunities, the Port of Newcastle, like many other businesses, are adopting strategies to shift away from fossil-based systems of energy production and consumption and move to renewable energy sources such as wind, solar and batteries.
As the world's largest export coal port, diversification away from thermal coal is not an option for the Port of Newcastle, it is a must.
Diversifying from Thermal Coal
This diversification is critical to ensure a strong, thriving Port is created, that will continue to support local jobs and the economic prosperity of the NSW and Hunter Region for generations to come. To do this the Port of Newcastle management team are focused on realising projects now, as it is the actions that are taken now that will shape the Port and the Hunter region over the next 10, 20, 50 years and beyond.
The Port has long been recognised as Australia's leading energy port, dominated by thermal coal, with a growing and critical role as a gateway for renewable energy technology. The Port of Newcastle Green Hydrogen Hub Project, supported by Macquarie's Green Investment Group and ARENA, opens the door to green energy production and export being an additional, and significant, trade opportunity for the Port's global deepwater gateway to the world.
Commitment to Sustainability
Over the past three years the Port's management team have transformed the Port, with their commitment to sustainability being at the centre of every decision made including their commitment to diversification. Such efforts have been reflected in their Global Real Estate Sustainability Benchmark (GRESB) scores which have increased from 40 in 2019 to 92 in 2021, gaining the Port a 5-star rating and a ranking of second globally and first in its category, Oceania.
Transforming the Hunter Region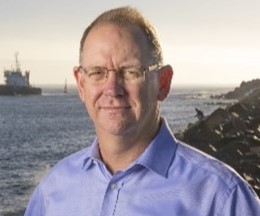 In this luncheon presentation, Craig Carmody, CEO of the Port of Newcastle, will discuss how the Port is embarking on a number of initiatives as part of its diversification strategy to successfully transition the Port to become the hub for renewable energy which will in turn create a strong, thriving Port that will support local jobs, future career pathways and the economic prosperity of the Hunter Region for generations to come.
Enquire about this event
You may also be interested in: