As we are faced by severe travel restrictions, video conferencing has been widely embraced as the preferred method for conducting meetings. But will it ever replace face-to-face interaction? This question is especially important when it comes to signing off on new investment mandates.
While we were locked down in our houses during the worst of the pandemic, videoconferencing reached audiences it had never before reached.
Yet, despite the widespread adoption of videoconferencing, many people have asked whether it can truly replace face-to-face meetings?
This is an especially pertinent question for fund managers as asset owners are often required to visit managers on the ground as part of their due diligence process before they can commit to a mandate.
As a journalist I marvel at the possibilities technology has offered me, enabling me to produce content for podcasts where the various participants have been recorded on separate tracks, giving me extraordinary editing capabilities.
But then again, I'm not responsible for billions of dollars of pension savings.
Asset owners and consultants need face-to-face interaction with managers not just to understand their investment process, but also to get a feel for a firm's culture and the attitude of its portfolio managers.
It is hard to get that from a 45-minute Microsoft Teams session.
On the other hand, deciding it is impossible implies the assumption that life will go back to normal at some stage in the near future. Considering the various countries that are experiencing a second wave, that might not necessarily be the case. At the time of writing, parts of Victoria are under lockdown once again.
A Quick Poll
We decided to ask our network of investors, in the form of a poll, the following question:
"With travel restrictions in place, how does that impact operational due diligence as part of mandate issuances? Can the use of videoconferencing give investors sufficient assurance, especially when evaluating the 'softer' issues, such as culture, team dynamics and personality?"
Only 10 per cent of respondents said a face-to-face meeting could be delayed until a later date, but didn't need to cause a delay in signing off on a mandate.
A third of respondents dismissed the idea outright. There are no exceptions, not even during a pandemic, they argued.
Another 30 per cent said the lack of face-to-face meetings would only prohibit the approval of a mandate if it concerned a new manager, while the remaining 27 per cent said they were open to the use of videoconferencing for finalising their due diligence.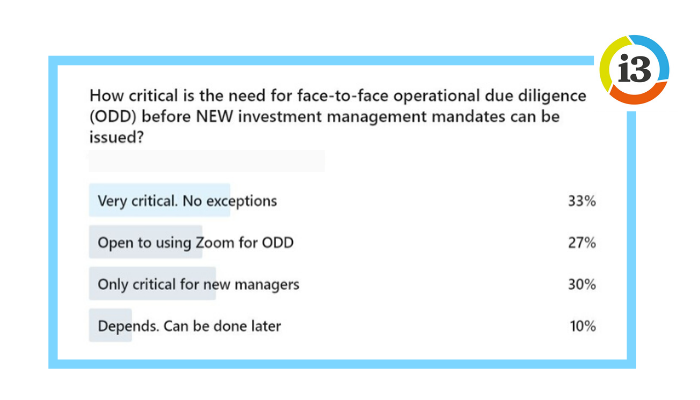 Jo Leaper, Senior Consultant with JANA, has made a number of very interesting observations on the topic in a post on LinkedIn.
Leaper found the experience with videoconferencing can vary quite significantly from manager to manager.
"Technology has been a great enabler, but also poses challenges. The beauty of onsite is body language, which can be lost in VC (videoconferencing). Poor quality tech can interrupt the flow of meetings, but so too can 'let's have the slide pack on the screen'," she says.
"I want to see the presenters, to have a conversation about the real challenges they're dealing with. Some of the reviews we've done have been of excellent quality, losing none of the candour, trust and respect we expect in interactions.
"In others, the more 'polished' presentation styles come out, and the flavour, the culture and the tone of the organisation become challenging to get to."
Ultimately, she has to answer the question of whether videoconferencing can replace face-to-face meetings with a definitive no.
"VC should not ever fully replace eyeballing a manager. The discussion quality, insight into culture and ability to get to know more than just a face on a screen brings forth a relationship truly on a common goal – beneficiary outcomes," she says.
Trusted Partner
But what if there was another possibility?
In conversations we've had with fund managers, they have said there have been cases where an asset owner relied on a 'trusted partner' who was already on the ground and could do the face-to-face meeting for them.
This trusted partner can be an asset consultant, a former employee turned adviser or even another asset owner.
In response to our poll, we received a comment from Guan Seng Khoo, a very senior investment specialist based in Singapore, who has served in risk management roles for the likes of Alberta Investment Management Corporation (AIMco) and Changi Airports International.
Khoo actually served as a trusted partner for an American company earlier this year.
"I did an investment and operational due diligence recently on a firm based in Asia (on behalf of an American firm whose staff couldn't travel). It can be worked around depending on the situation," he says.
"We also used FaceTime as I did a recon/walkabout of the premises to transmit real time to my US counterparts while describing the scenario and environment to them."
But Khoo is used to asking tough questions and knows what to look out for in terms of risk management and governance processes. He wears the title of Chief Troublemaker with pride.
The question is whether this can be done on a larger scale, where asset owners rely on partners around the world to kick the tyres for them.
When we asked Leaper what she thought of the concept of a trusted partner, she welcomed the idea.
"It does have merit," Leaper says in an interview with [i3] Insights. In fact, Leaper has already been actively building a network of specialists in operational due diligence that can help out in the research of overseas managers.
"As part of a global research project, we've made a vested effort in recent years of trying to meet other people in operational due diligence from other regions," she says.
"For JANA, we do a lot of overseas research, but we can't necessarily be on site with a manager tomorrow if something big happens. So to have a trusted partner that can do face-to-face, even if you can do video conferencing at the same time, is a really good way of doing it," she says.
But there needs to be a cultural fit with the trusted partner and you need to make sure that the right questions are asked to meet a client's needs, Leaper says.
For example, some clients are adamant that managers have independent directors, while others are more concerned about fraud prevention.
"If it is a reasonably plain vanilla manager, then it is not so hard to brief a trusted partner. But if you are planning a new investment with a US hedge fund, then that could prove to be more difficult.
"But you would never just send one person, anyway. You might not want a cast of thousands, but you do need multiple people to avoid bias, or even simply missing body language when you are taking notes," she says.
__________
[i3] Insights is the official educational bulletin of the Investment Innovation Institute [i3]. It covers major trends and innovations in institutional investing, providing independent and thought-provoking content about pension funds, insurance companies and sovereign wealth funds across the globe.