The financial crisis of 2007-08 was severe, but it might have been only the beginning, according to Jamil Baz, Global Head of Client Analytics, PIMCO.
Baz – who spoke at the Investment Innovation Institute's [i3] Investment Strategy Forum held in Torquay, Victoria, in May – argued the G7 countries have not managed to reduce their leverage and are in a worse position than at the start of the crisis.
"At the beginning of the crisis, in June of 2007, leverage, by which I mean total debt, including public, corporate, financial and household debt, to gross domestic product (GDP), stood at an extremely high number, close to 370 per cent of GDP in the G7 countries," he said.
"No wonder you had a crisis; this was by far the largest ratio in history.
"And so you would think sitting here 10 years later, after all the restructuring and pain, the leverage ratio to have fallen like a stone.
"Instead, what do you see? It has increased by a full 30 [percentage] points.
"If this was a crisis of leverage and leverage today is higher than ever, then maybe, just maybe, this crisis has not even started yet."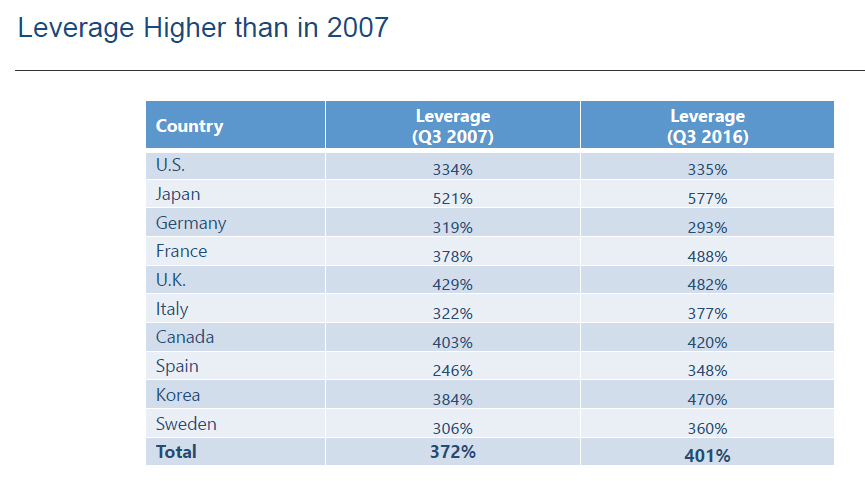 Source: Bloomberg
He said the interplay between high leverage and high valuations made the situation even gloomier as the two reinforce each other.
"If you look at all the underlying factors of valuation in the United States, then virtually everything, whether it is profit to GDP or debt outstanding to GDP, everything is standing in the 85th to 100th percentile," he said.
"Clearly, there is a presumption that the equity market is overvalued in the US. It could be that the S&P 500 is sitting at three times its fundamental value."
But he also pointed out the tendency of bubbles to continue and said in the short term a crisis was unlikely.
"My caveat is that when something is expensive, it is likely that it will get more expensive, not less expensive," he said.
"The probability of a big crisis happening next year is not very high, maybe 15 to 20 per cent. But over a long time period, five to 10 years, that probability is very high."
After all, it is hard to predict which catalyst will herald a new downturn.
"It could happen spontaneously: the market gets very expensive and sells off. In 1927, that is exactly what happened," Baz said.
"It is not news that makes prices; it's the prices that make the news."
__________
[i3] Insights is the official educational bulletin of the Investment Innovation Institute [i3]. It covers major trends and innovations in institutional investing, providing independent and thought-provoking content about pension funds, insurance companies and sovereign wealth funds across the globe.