Superannuation funds have paid out $6.3 billion in total under the early release scheme to people who are experiencing financial hardship as a result of the coronavirus pandemic.
As of 3 May, the funds received in total 1,080,310 applications, of which 830,024 have been paid, figures released by the prudential regulator APRA have shown.
For the first time, APRA also gave details of the individual super funds. These details showed that Sunsuper has paid out the most of all funds at $784 million. It has received 111,103 applications, of which 108,280 have been paid out.
AustralianSuper received more applications, at 142,475, but has paid out 99,350 of these, to the tune of $764 million. The lower payout could be the result of incomplete information provided by the ATO, applications errors by members or applications by defined benefit members, which tend to take longer, the regulator said.
"This is a new scheme, and some funds have received tens of thousands of applications, so an average payment time so far of 3.1 days following receipt of applications from the ATO is a positive story," Helen Rowell, Deputy Chair of APRA said in a statement.
"We recognise, however, that it may be both necessary and appropriate for trustees to take longer in some cases. This is no doubt frustrating to those awaiting payments, but the recent attempted fraud being investigated by the Australian Federal Police emphasises that care is needed to ensure payments go to the right people," Rowell said.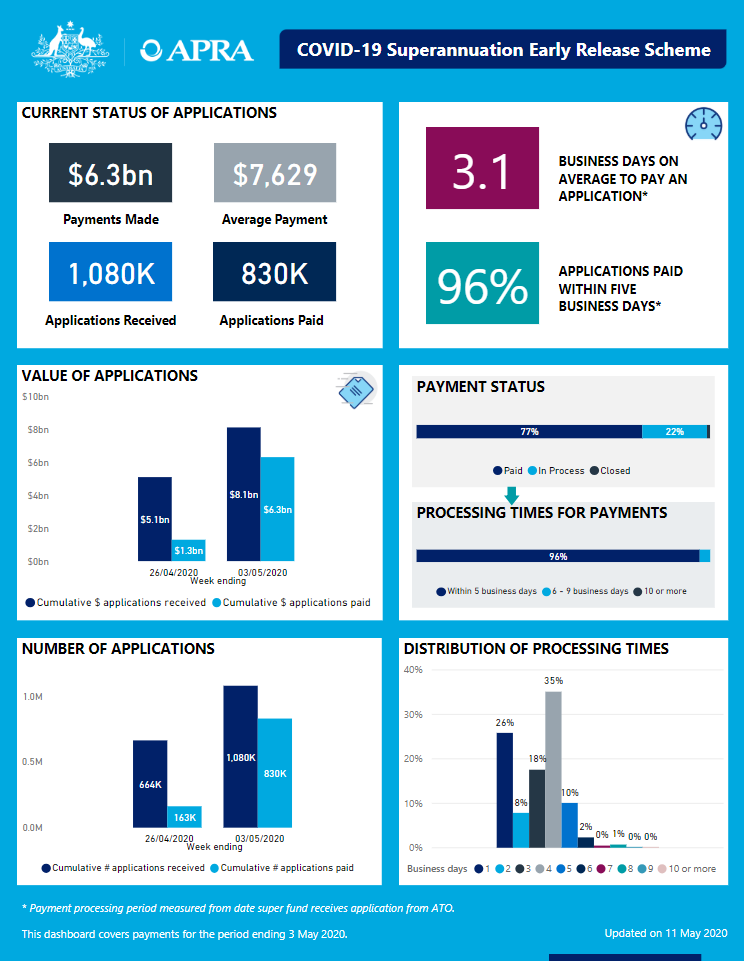 Source: APRA
When the early release scheme was announced, some concerns were raised about the impact on hospitality super fund Hostplus, as this industry has been disproportionately affected by the pandemic and average account balances are low.
But APRA's figures show that the fund hasn't run into liquidity issues so far. The data showed that Hostplus has paid out $662 million to 93,731 members, but received 127,409 applications in total.
Hostplus has indicated that as of 1 May, it still had $4.6 billion in cash, which represents 10.2 per cent of the total fund.
__________
[i3] Insights is the official educational bulletin of the Investment Innovation Institute [i3]. It covers major trends and innovations in institutional investing, providing independent and thought-provoking content about pension funds, insurance companies and sovereign wealth funds across the globe.